Round steel tanks are often constructed by rolling steel plate and attaching curved steel sections as stiffeners and as mating flanges.  The tanks can have welded or bolted sections and also often have dished heads on one or both ends of round cylinders.  Tanks can contain liquid or dry materials and can be painted or coated.
Companies that specialize in curving steel sections often provide rolled products to companies who fabricate tanks.  Most commonly the tank manufacturers will roll their own steel plate into cylinders or cones.  The tank producers will buy a variety of other products because a specialty subcontractor can make them better and/or less expensively. To cite a few examples of such purchased products, rolled angle rings or angle flanges, either in standard or special sizes, are often used on the ends of tanks as flanges.  Tees made from splitting beams are often used as stiffeners for tanks.  Bar rings rolled the "hard way: (like a washer rather than a belt) can also function as flanges. And half pipe can be coiled helically around tanks to provide a thermal bridge.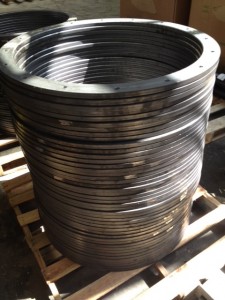 Tank manufacturers can turn to companies who specialize in curving steel sections for expert advice and a wide range of services to add value to their products.  See the Steel Tank Institute/Steel Plate Fabricators Association for more information.