Steel plate rolling is often done to create full cylinders or cylinder segments.  These parts often have bevels to facilitate the welding of the curved steel sections.  The bevels can be required on either the longitudinal seam of a cylinder or on the circumferential seam between two cylinders or end plates.  Cylinder segments can also be beveled on all sides. There are several types of bevels.  In general an edge that is beveled is not perpendicular to the face of the steel plate.  It is often at 45 degrees to the face.  The image below shows two bevels.  The second is sometimes called a chamfer but the two terms are often used interchangeably.
At times plates are welded together without any bevel but with only a tight fit or a slight gap between the plates.
Plates can be singly or doubly beveled to perform a V-groove weld.
When only one edge of the steel plate is beveled and the other edge is left square, then a bevel groove weld can be performed.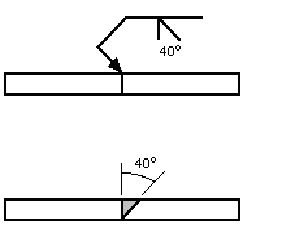 There are other methods of beveling and welding but these are the most common.  Clear and complete communication between the customer seeking the plate rolling, beveling, and welding services and the supplier will guarantee that the parts will meet the required specifications.