The use of steel is seen by some as a cold, stiff, and forced effort, which stands apart from natural and vibrant design and form.  The curved steel industry is one area which is beginning to separate itself from these preconceived notions by incorporating sleek, curved steel members in exciting ways.  One area where curved steel stands out the most is when it is used in conjunction with natural elements.
Over 200 pieces of curved steel beams were used to create the mile-long walkway at Dos Lagos.  Featuring multi-radius bending of W6 x 24, W8 x 13, W8 x 35, W6x16, and W8 x 31 beams, some portions of the architecture called for radii as tight as 4 feet.  The walkway itself spans the length between two man-made lakes in Corona, California, and dresses the curved steel in bamboo for a melding of natural and man-made construction.  Here, the use of curved steel for the walkway frame, benches, and handrails is complementary to the luxurious winding path with views of waterfalls and this cozy community.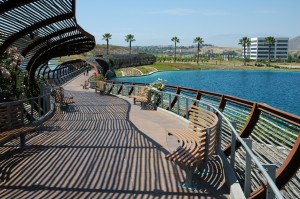 Another area where curved steel was used to bring people closer to the beauty of nature was in the Glacier Skywalk in Jasper National Park in Alberta, Canada.  Here, architects and engineers incorporated the use of rolled pipe and curved plate among other elements to bring visitors a few steps closer to the dramatic views of the Canadian Rockies.  Visitors are able to step out 100 feet beyond the cliff edge and look down over 900 feet through the glass floor.
Similar to the Canadian skywalk, the Hualapi Tribe maintains the horseshoe-shaped cantilever bridge of curved steel which reaches out over the Grand Canyon in Arizona.  Here, the curved steel walkway is strong enough to withstand an 8.0 magnitude earthquake within a 50 mile range.  Visitors to the attraction can rest assured that the highly engineered walkway is safe to step out onto.  While it can hold over 800 visitors weighing 200lbs simultaneously, the maximum occupancy for the walkway is only 120 at one time.  The lower number of visitors also helps maintain a somewhat serene and beautiful view of the surrounding area, as the Hualapi Tribe also requires visitors to wear protective coverings on their shoes.
Curved steel has many uses, but more often, we are seeing it utilized to merge natural and man-made edifices with beautiful and stunning results.