As far back as I can remember, I have been intrigued by the lights and sounds of live theater.  Both onstage and off, the environment within a theater captures a great deal of fluid and dynamic motion.  Naturally, we frequently see the use of curves within a theater to assist the experience.  Seats are arranged in arc shaped layouts to improve visual sight lines for theater goers, even going so far as to create theater-in-the-round style performance halls.
It is natural then to utilize curved steel for structural elements in theater construction.  Because of the curved seating layouts, often the walls of a theater are curved as well.  Theater design often requires the use of curved panels to give the appropriate acoustic effects.  Fabric panels may line the walls to absorb sound and prevent echoes which would disrupt a performance.  For these lightweight structures, tube bending is often utilized for its lightweight framing ability.  Steel or aluminum tubing can be accurately rolled to templates with multiple radial dimensions to fit the often custom-curved shapes of a theater.
Tube and pipe bending can also be located above head in a theater.  The many light devices used to illuminate a stage are frequently made from a base of rolled sheet metal.  As well, some theaters utilize curved catwalks overhead to provide access to these fixtures where you may find pipe bending used to make handrails and curved beams or channels for structural support.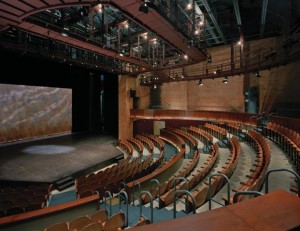 Stepping out from behind the stage, curved steel has many uses in front of the curtain as well.  Curved steel can be used to make a variety of components for set pieces.  Rolled pipe can be used as the base structural frame for hand-crafted trees or many other shapes.  One particular use for pipe bending is the creation of a device known as a 'lyra' within the aerial gymnastic community.
You may have seen aerial acrobats with groups like Cirque du Soleil using one of these curved steel hoops to put on a vibrant performance much like a classic trapeze artist.