Companies that specialize in pipe and tube bending usually develop a customer base that spans many industries.  Having such a diverse and widespread customer base allows them to grow without suffering the business cycles that occur in various industries:  when one industry is down, another is often up.
We have seen a number of inquiries for pipe bending that were referenced as "davits."  Not knowing what a davit was, I looked the term up and found that it refers to a "crane-like structure used to lower things off a ship, etc."  The etymology was interesting.  It derives from Anglo-French daviot, diminutive of Davi David.  And scholars speculate that the use of the Christian masculine proper name, "David," is being used to apply to a useful device in the pattern of such names as "Jack," "Jenny," and "Jimmy."
The customer who ordered two 3in solid rounds bent to the print above identified the parts as "davits."  Looking up images of davits yielded the following:
We have curved stainless steel through 90 degrees with a 22in tangent on one end and a 32in tangent on the other.  Being stainless, these davit parts could well be for a nautical application.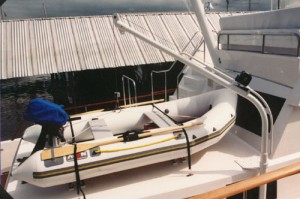 Davits are often ordered in pairs.  We have had 10 davits ordered out of 4in Schedule XX Heavy (0.674 wall) rolled to a 12in center line radius with two tangents, one 24in long, the other 84in long.  All davits, small and large, are usually fitted with a tackle for suspending or lowering equipment.  Davits are also used to suspend window-washing equipment hung from the tops of buildings.
Davits:  just another product in another market where tube and pipe bending fulfills a useful function and helps keep tube and pipe benders busy.