Star architect, Rafael Vinoly, envisioned a spectacular, half-barrel, vaulted skylight 150ft high and 327ft long arching over the Kimmel Center for the Performing Arts.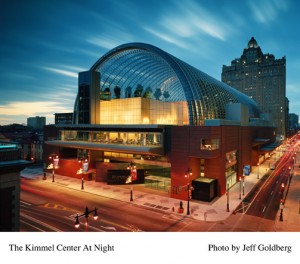 To help make this dream a reality, Chicago Metal Rolled Products curved 292 pieces of 5 x 5 x ½ structural steel tubing to an 86ft 8-5/8in radius in 75ft lengths.  After choosing the best of its 60 rolling machines, the company quickly developed the unique tooling required to bend 300 tons of square tubing diagonally, i.e. 45 degrees off axis, with no distortion on the side or the corners of the tubing.
The company rolled 75ft lengths to minimize fabrication time in the shop, to reduce field splices and to shorted erection time.
Since Chicago Metal can roll sections longer than 100ft, the length of the pieces was not a problem for the machines, the cranes or the factory.  But it did present some shipping problems.   The solutions included shipping wide loads with stretch trailers, careful bundling of the curved tubes and resolving the logistics of shipping 15 truckloads to arrive at the requested times.
According to Joe Wendt, the project manager at Chicago Metal Rolled Products, "The greatest challenge was providing the high quality absolutely necessary for the precise fitting of steel with glass."
And according to Vinoly and company, Chicago Metal met that challenge: "The structural steel fabricators built the jig for the barrel vault steel  to tolerances within 1/16in which is unheard of in structural steel or even architectural steel."  Chicago Metal's tubes fit that jig perfectly, thereby contributing to the successful realization of the architect's vision.