Steel tees up to 22 x 142-1/2 can be curved stem in, stem out or stem up.  At times, however, either the stem is too large or the radius is too tight to roll a tee.  One solution is to fabricate a built-up tee.
For example, a customer wanted two tees with a 14in stem ½ in thick and with a 10in wide flange rolled to a 6ft 11in inside radius stem out.  Too tight to roll, this size tee to this radius could be made in two pieces.
Two pieces are burned out of 1/2in plate 13-1/2in wide cut to a 16ft 11-5/8in inside radius with 8ft of good arc measured to the outside. The other piece is a 5/8 x 10 flat rolled the easy way to a 6ft 11in inside radius.  This piece is then cut in half.  The resultant pieces are tacked together to make two tees.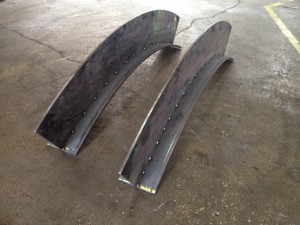 The end use is for lintels at a high-end housing project.
For more information on curved steel lintels, see the City of Chicago Building Code, Article 3, Section 326, Sub-Article 502.4.