Designers of light fixtures turn to companies specializing in bending aluminum tubing to manufacture their products.  But bending aluminum is not always easy:  it can deform or even crack in the bending process.  With the right tooling, machine and machine operator, however, aluminum tubing can even be formed into a helix with no or minimal distortion.
In one case, 3in diameter, grade 6061 tubing with a 0.25 wall was to be rolled helically to a 2ft 5.06in outside radius with 18ft of good arc (outside) and with a "walk up turn left" pitch of 19degrees.
The customer needed five of these helically rolled tubes.  He also needed 5 each of the same size rolled to a 1ft 3.03in radius with a pitch of 15degrees and 5 each of the same size rolled to a 1ft 11.63 radius with a pitch of 23degrees.  The total of 15 pieces will make 10 light fixtures.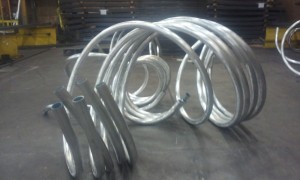 The design came from Australia – a company named Yellow Goat Design.  The fabricator in Ontario, Canada, will slide the fins along the tube spine.  And installation will be a mall near Los Angeles, CA.